PAN-FRIED SEA BASS WITH SWEET CHILI SAUCE
3 Servings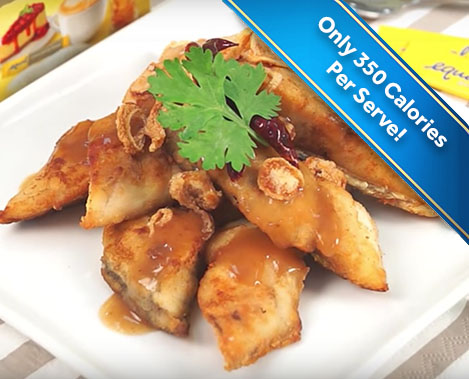 Ingredients
400 g sea bass fillet
2 tbsp wheat flour
1 tsp salt
3-4 fried chilies
2 tbsp fried shallots
3 tbsp vegetable oil
1 coriander
1 red chili
For the sweet chili sauce
½ cup water
½ tbsp tapioca flour
1 tsp salt
3 tbsp tamarind paste
1 tbsp fish sauce
3 sticks Equal Gold Sweetener
Preparation
Clean fish and pat dry. Season with salt and dredge fish in wheat flour. Add fish to pan and fry until cooked
For the chili sauce, put tamarind paste, fish sauce, salt and Equal Gold Sweetener into a pan and heat it. Dissolve tapioca flour in water and add it into a pan. Stir until cooked.
Place fish onto plate. Drizzle with sweet chili sauce, sprinkle fried shallots and fried chilies over the top. Garnish with sliced red chilies and coriander.
Serves 3
Nutrition Information
3 servings
Cooking Time: 20 mins
Calories 350 kcal / serving