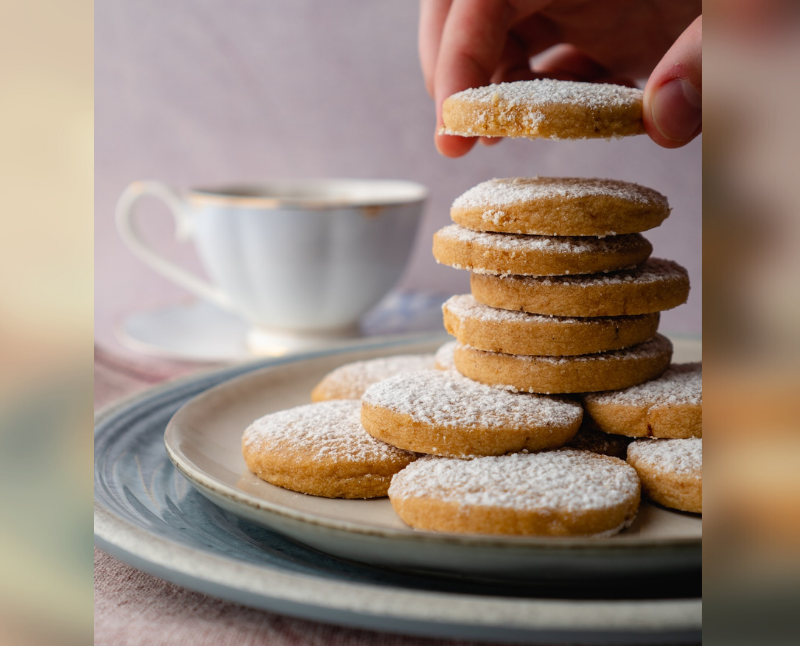 Ingredients
300g plain flour
25g cornflour
200g salted butter, chilled, cubed
125g Equal® Monk Fruit
2tsp vanilla extract
1tbsp milk (optional)
Preparation
Place the plain flour, cornflour and chilled salted butter into a food processor. Blend until the mixture resembles breadcrumbs.
Add the Equal® Monk Fruit, and vanilla extract. Blend until combined and smooth. If the dough looks too dry and won't hold together when pinched, add the milk and blend until you have your desired consistency.
Lightly dust a clean work surface with flour. Transfer the dough to the surface and using your hands, knead the dough into a round log about 36cm in length, then wrap in clingfilm. Transfer to the fridge to chill for 1 hour.
Preheat the oven to 180°C / 160°C Fan / Gas Mark 5. Line two baking trays with greaseproof paper.
Slice the dough into 1cm thick rounds and transfer to baking trays, making sure there is enough space in between each. Prick with a fork and bake for 20 minutes or until golden.
Remove from the oven and allow to cool for 10 minutes on the trays. Transfer to a wire rack to cool completely before serving.
Tip: Pricking the shortbread with a fork before baking will help the shortbread bake evenly in the oven.
Nutrition Information
Prep time: 10 minutes
Cook time: 20 minutes
Total time: 30 minutes