KUROBUTA EGG PUDDING
4 Servings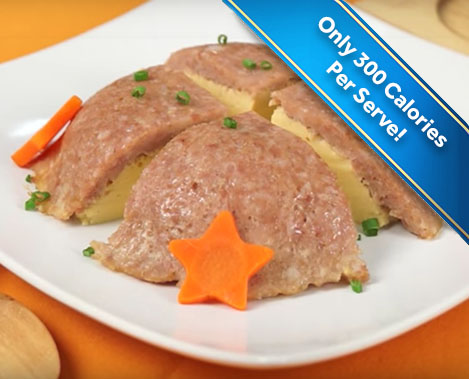 Ingredients
Ingredients for minced pork
300g minced pork
1 ½ tsp seasoning sauce
½ tsp baking soda
1 tsp ground pepper
2 sticks Equal Gold Sweetener
For egg pudding
3-4 eggs
2/3 cup water
2 tbsp soy sauce
1 stick Equal Gold Sweetener
Chopped green onion (for garnish)
Sliced carrots (for garnish)
Preparation
Flavor minced pork with seasoning sauce, baking soda, ground pepper and Equal Gold Sweetener. Mix together and knead for 3-5 minutes until pork gets sticky. Press the pork into a bowl and spread it to the side.
Whisk eggs after season with soy sauce and Equal Gold Sweetener
. Add water and stir. Pour the mixture through a fine strainer. Then pour it in a bowl covered with minced pork. Cover the bowl with aluminium foil and steam it over medium heat for 30-40 minutes.
To serve, turn the bowl upside down on a plate to let egg pudding come out. Cut into slices and garnish with steamed carrots and chopped green onions.
Serves 4
Nutrition Information (4 servings)
Cooking time: 50 mins
Calories: 300 kcal / 1 serving