CHICKEN STUFFED WITH GINGER SAUCE
2 Servings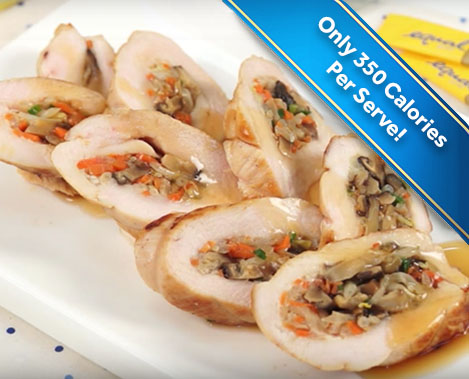 Ingredients
2 chicken breasts
Small amount of salt and ground pepper
½ cup sliced Chinese mushroom
½ cup grated carrots
1 cup bean sprout
3 tbsp chopped green onion
2 tbsp chopped onion
1 tbsp oyster sauce
1 tsp vegetable oil
Water
1 stick Equal Gold Sweetener
For ginger sauce
5-6 sliced old gingers
3 sticks Equal Gold Sweetener
3 tbsp seasoning sauce
½ cup water
1 tsp tapioca flour
Preparation
Season chicken breasts with salt and pepper. Let it stand for 5-10 minutes.
Heat the oil in a pan and fry mushrooms and vegetables. Add oyster sauce and Equal Gold Sweetener. Fry until mix well and let it cool down.
Place the stuffing on each breast and roll the breast over. Then tie the breast with a string or secure with toothpicks.
Grill the chicken breast on a pan. Cover with the lid and let it cook for 10-15 minutes over medium heat.
Heat a pan. Add ginger, seasoning sauce, water, tapioca flour and Equal Gold Sweetener and keep stirring under low heat to thicken the sauce.
Slice the chicken breast and top with spoonful of ginger sauce. Serve while hot.
Serves 2
Nutrition Information
2 servings
Cooking time: 25 mins
Calories: 350 kcal / 1 serving