DOUBLE CHOCOLATE BROWNIES
Serves 16
Applesauce replaces part of the butter and Equal® adds sweetness to these brownies made with both cocoa and chocolate chips.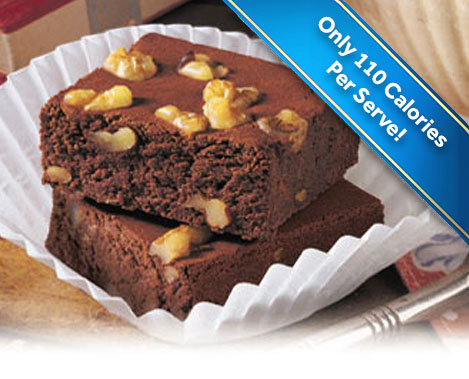 Ingredients
Cooking spray
24 sticks Equal Classic Sweetener
3/4 cup all-purpose flour
1/2 cup semi-sweet chocolate chips
6 tablespoons unsweetened cocoa
1 teaspoon baking powder
1/4 teaspoon salt
6 tablespoons butter, softened
1/2 cup unsweetened applesauce
2 eggs
1 teaspoon vanilla extract
Chopped walnuts, optional
Preparation
Preheat oven to 350°F. Spray an 8-inch square baking pan with cooking spray; set aside.
Combine Equal Classic Sweetener, flour, chocolate chips, cocoa, baking powder and salt in a medium bowl.
Beat butter, applesauce, eggs and vanilla in a separate medium bowl until blended. Stir in flour mixture until blended. Spread batter in prepared baking pan. Sprinkle with chopped nuts, if desired.
Bake 18 to 20 minutes or until top springs back when gently touched. Cool completely on wire rack. Cut into squares.
Serves 16.
Nutrition Information (per serving)
Calories: 110
Protein: 2 g
Carbohydrates: 11 g
Fat: 7 g
Cholesterol: 35 mg
Sodium: 118 mg
Exchanges
Fat – 1
Starch – 1