COCONUT CUSTARD PIE
Serves 8
A baked custard pie with less calories because it's sweetened with Equal® and made with reduced fat milk. For added coconut flavor use the optional coconut extract.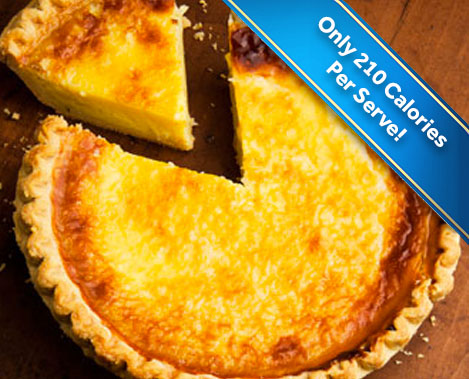 Ingredients
Pastry for single-crust 9 inch pie
4 eggs
2 cups 2% milk
24 sticks Equal Classic Sweetener
2 tablespoons cornstarch
1/2 teaspoon salt
1/2 cup toasted flaked coconut
1 teaspoon coconut extract, optional
Preparation
Preheat oven to 375°F.
Roll pastry on floured surface into circle 1 inch larger than inverted 9-inch pie plate. Ease pastry into plate; trim and flute edge. Set aside.
Beat eggs in a large bowl with electric mixer on medium speed about 5 minutes or until thick and lemon colored. Stir in milk and remaining ingredients. Pour mixture into pastry shell.
Bake 30 to 35 minutes or until sharp knife inserted halfway between center and edge of pie comes out clean. Cool on wire rack. Serve at room temperature, or refrigerate and serve chilled.
Serves 8.
Nutrition Information (per serving)
Calories: 210
Protein: 6 g
Carbohydrates: 21 g
Fat: 12 g
Cholesterol: 101 mg
Sodium: 354 mg
Exchanges
Fat – 1 – 3/4
Starch – 1 – 1/4
Reduced Fat Milk – 1/4