DARK CHOCOLATE CHIP COOKIES
Serving Size 12 Cookies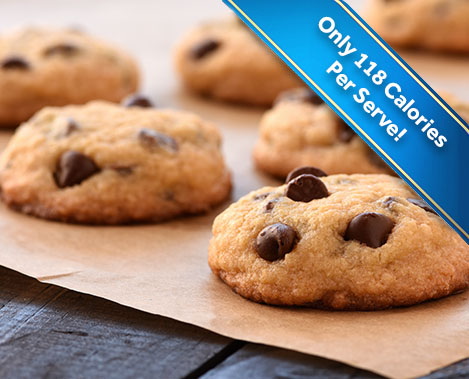 Ingredients
Makes 12 cookies
125g butter, room temperature
2 eggs
1 ½ cups plain flour
1 tsp baking powder
½ cup Equal Gold Sweetener
1 tsp vanilla extract
1 cup chopped dark chocolate (approx. 100g)
Preparation
Pre-heat oven to 180°C and line a baking tray (24cmx 18cm) with baking paper, set aside.
Beat the butter and the eggs until well combined, set aside.
In a separate bowl, combine the flour, baking powder and Equal Gold Sweetener in a bowl. Form a well and add the butter mixture, vanilla and dark chocolate. Stir to combine.
Spoon mixture into 12 even sized balls and place on baking paper. Gently flatten with the back of a spoon. Bake in the oven for approx. 20 minutes until cooked through.
Serves 12
Nutrition Information
Serving size 12 cookies
Calories: 118kcal
Protein: 3g
Fat: 12g
Saturated fat: 5g
Carbohydrate: 18g
Sugars: 5g