FUDGY MACADAMIA BITES
Serving size 16 squares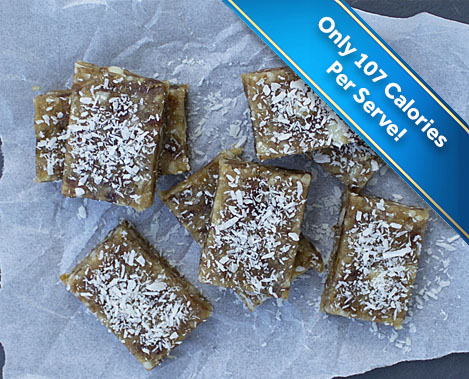 Ingredients
Makes 16 squares
1 Tbsp tahini (hulled)
½ tsp Equal Gold Zero Calorie Sweetener
1 Tbsp coconut oil, melted
1 cup macadamia nuts
1 cup medjool dates (8 dates), pitted
2 Tbsp desiccated coconut
Preparation
In a bowl, combine the tahini, Equal Gold Sweetener and melted coconut oil. Stir until combined.
In a food processor, blitz the macadamias until a fine crumb. Add the dates and tahini/coconut oil mixture and blitz until combined.
Press mixture into a 1L oblong container or small baking tray lined with baking paper and place in the fridge for at least 2 hours.
Sprinkle with desiccated coconut before slicing. Store in an airtight container in the fridge.
Serves 16
Nutrition Information (per serving)
Serving Size: 16 squares
Calories: 107 kcal
Protein: 1g
Fat: 8g
Saturated fat: 2g
Carbohydrate: 9g
Sugars: 8g