EGG MUFFIN (MICROWAVE)
Serves 3 (12 pieces)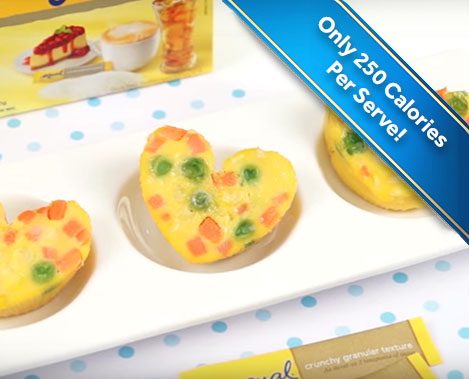 Ingredients
4 eggs
½ cup all-purpose flour
4 tbsp milk
3 sticks Equal Gold Sweetener
½ tsp salt
½ cup carrot
½ cup green pea
½ cup sweet corn
½ mozzarella cheese
Preparation
Whisk together eggs, milk and all-purpose flour. Season it with salt and Equal Gold Sweetener. Add carrots, green peas, sweet corn and stir them until mixed well.
Scoop up the mixture and place in a mould. Top with mozzarella cheese and press it down gently. Microwave the muffins at 800 watts for 3-4 minutes or until cooked. Serve with tomato ketchup.
Tip: At medium heat of 500 watts for 5-6 minutes, the muffin surface will become smoother.
Serves 3 (12 pieces).
Nutrition Information
Serves 3 (12 pieces)
Cooking time: 20 mins
Calories: 250 kcal / 1 serving