POWER BLISS BALLS
Makes approx. 12 balls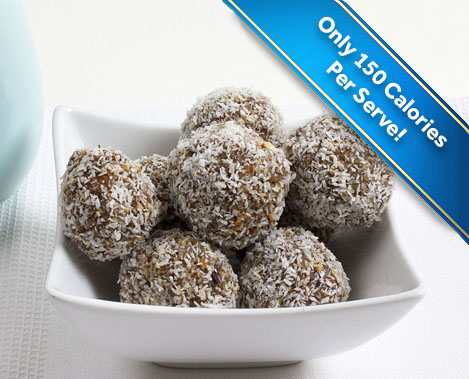 Ingredients
Makes approx. 12 balls
1 cup of rolled oats
3 Tbsp of melted organic coconut oil (cold pressed)
1/3 cup of walnuts
1/3 cup of sultanas
½ cup of medjool dates chopped and pitted
1 stick Equal Classic Sweetener
1/3 cup of organic shredded coconut
Preparation
Line a 24cm x 18cm baking tray with baking paper and scatter the oats across. Lightly spray the rolled oats with olive oil and place under the grill, turning every 2 minutes until golden. Allow to cool.
Then, blend all ingredients except shredded coconut in a food processor until a fine crumble consistency.
Using your fingers, gently roll mixture in to even size balls and roll in shredded coconut. Place in fridge and allow 1-2 hours to set.
Serves 12.
Nutrition Information (per serving)
Serving size 12 balls
Calories: 150kcal
Protein: 2g
Fat: 9g
Saturated fat: 6g
Carbohydrate: 16g
Sugars: 10g