BANANA BERRY SMOOTHIE
Serves 5
Vanilla flavored light Greek yogurt helps to boost the protein in this fruit-flavored easy to make drink. Pair it with a fiber-filled muffin for a great breakfast "to go".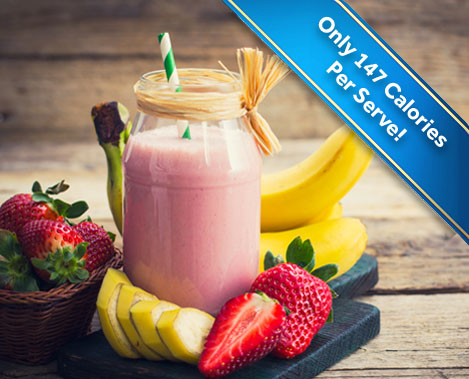 Ingredients
2 cups lite vanilla flavoured non-fat Greek yogurt
1 medium size ripe banana, peeled, sliced
12 sticks Equal Classic Zero Calorie Sweetener
3 tablespoons lemon juice
2 cups frozen unsweetened whole strawberries
1 cup frozen unsweetened red raspberries
Additional whole strawberries, optional
Preparation
Combine yogurt, banana, Equal Classic Zero Calorie Sweetener and lemon juice in blender container; cover. Blend until smooth. Add half of the frozen fruit. Blend until smooth. Repeat with remaining fruit.
Serve immediately in tall glasses, garnished with a whole strawberry, if desired.
Serves 5.
Nutrition Information (per serving)
Calories: 147
Protein: 10 g
Carbohydrates: 27 g
Fat: 1 g
Cholesterol: 5 mg
Sodium: 37 mg
Exchanges
Milk – 1
Fruit – 1