WHOLEMEAL BLUEBERRY HOT CAKES
Serves 4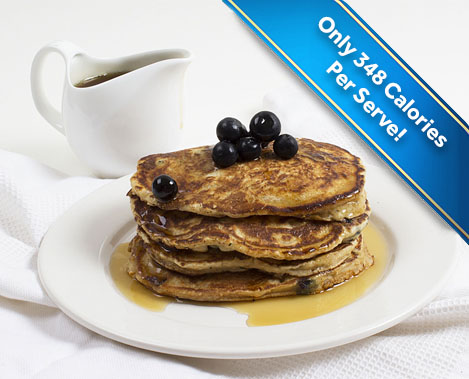 Ingredients
1 ½ cup low fat milk
1 large egg
1 ½ tsp vanilla extract
1 cup wholemeal flour
½ cup plain flour
1 Tbsp baking powder
8 sticks Equal Stevia Sweetener
1 tsp salt
1 cup fresh blueberries
Olive or coconut oil for frying
¼ cup maple syrup (optional: remove for diabetes friendly)
½ cup additional blueberries to serve
Preparation
In a bowl or jug, whisk the milk, egg and vanilla until combined. In a separate bowl, sift the flour with the baking powder and stir in the Equal Stevia Sweetener and salt.
Make a well and add the milk mixture to the flour mixture, along with the blueberries and stir to combine.
Spray a small to medium sized fry pan with oil and heat over a medium temperature. Spoon a ladle of the mixture into the pan. Rotate the pan to form a medium sized circle. Cook for approx. 1-2 minutes on each side, or until golden.
Repeat this process until 12 hot cakes have been made.
Serve with maple syrup, and additional blueberries.
Serves 4
Nutrition Information (per serving)
Preparation time: 5 minutes
Cooking time: 15 minutes
Serve with maple syrup
Calories: 348 kcal
Protein: 11 g
Fat: 8 g
Saturated fat: 2 g
Carbohydrate: 56 g
Sugars: 22 g
Serve without maple syrup (diabetes friendly)
Calories: 301 kcal
Protein: 11 g
Fat: 8 g
Saturated fat: 2 g
Carbohydrate: 44 g
Sugars: 10 g