NO-BAKE ORANGE CREAM CHEESECAKE
Serves 16
This is a light fluffy textured cheesecake that is filled with chopped oranges.
It's a great warm weather dessert.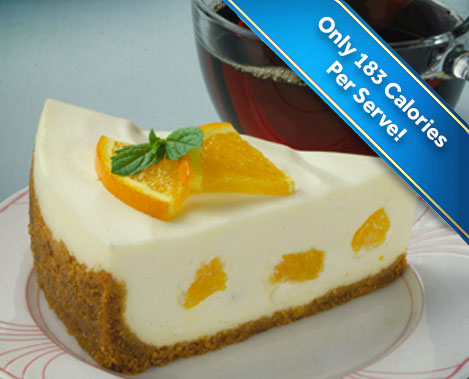 Ingredients
CRUST
1 cup graham cracker crumbs
3 tablespoons butter, melted
5 sticks Equal Classic Sweetener
CHEESECAKE
1 cup orange juice
1 envelope (1/4 ounce) unflavored gelatin
2 packages (8 ounces each) reduced fat cream cheese, softened
1 cup part skim ricotta cheese
18 sticks Equal Classic Sweetener
1 teaspoon orange extract
2 cups lite whipped topping, thawed, if frozen
1 can (11 ounces) Mandarin oranges, drained, coarsely chopped
Oranges halves, optional
Fresh mint sprigs, optional
Preparation
For Crust, combine all ingredients. Press mixture onto bottom of a 9-inch springform pan. Refrigerate while preparing Cheesecake.
For Cheesecake, pour orange juice into a small saucepan. Sprinkle gelatin over orange juice. Let soften 1 minute. Heat on low heat, stirring constantly, until gelatin dissolves. Remove from heat.
Beat cream cheese and ricotta cheese in a mixing bowl on medium speed of mixer until smooth. Stir in Equal Classic Zero Calorie Sweetener and orange extract. Add gelatin mixture to cheese mixture; blend until smooth. Refrigerate cheese mixture 20 to 30 minutes or until mixture is slightly thickened. Fold in whipped topping and chopped oranges. Spoon over crust. Cover and refrigerate several hours or overnight.
To serve, gently run metal spatula around rim of pan to loosen cake. Remove side of pan. Garnish each serving with orange sections and mint, if desired.
Serves 16.
Nutrition Information (per serving)
Calories: 183
Protein: 5 g
Carbohydrates: 15 g
Fat: 11 g
Cholesterol: 32 mg
Sodium: 165 mg