NEW YORK CHEESECAKE
Serves 16
This cheesecake has all the richness and decadence of the original, but with fewer calories thanks to Equal® and reduced fat dairy products. Serve topped with fresh raspberries, if desired.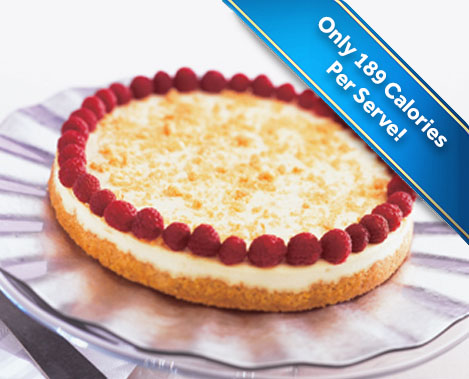 Ingredients
CRUST
1-1/4 cups vanilla wafer crumbs
4 tablespoons butter, melted
3 sticks Equal Classic Sweetener
CHEESECAKE
3 packages (8 ounces each) reduced-fat cream cheese, softened
18 sticks Equal Classic Sweetener
2 eggs
2 egg whites
2 tablespoons cornstarch
1 cup reduced fat sour cream
1 teaspoon vanilla extract
1 pint fresh raspberries, optional
Preparation
Preheat oven to 325°F.
For Crust, combine all ingredients. Reserve 1 tablespoon crumb mixture. Press onto bottom and 1/2-inch up side of a 9-inch springform pan. Bake 10 minutes. Cool on wire rack while preparing Cheesecake.
For Cheesecake, beat cream cheese and Equal Classic Sweetener
in a mixing bowl with an electric mixer on medium speed until smooth. Mix in eggs, egg whites and cornstarch. Fold in sour cream and vanilla until well combined. Pour mixture over baked crust.
Bake 45 to 50 minutes or until center of cake is almost set. Remove cheesecake from oven; sprinkle with reserved crumbs. Cool on wire rack. Gently run metal spatula around rim of pan to loosen cake. Let cheesecake cool completely. Cover and refrigerate several hours or overnight before serving.
To serve, remove side of pan. Place raspberries around edge of cake, if desired. Cut cake into 16 wedges.
Serves 16
Nutrition Information (per serving)
Calories: 189
Protein: 6 g
Carbohydrates: 14 g
Fat: 12 g
Cholesterol: 58 mg
Sodium: 281 mg
Exchanges
Fat – 2 – 1/4