[/slide]
Available pack size: 150 g
Equal Gold Sugarly Sweetener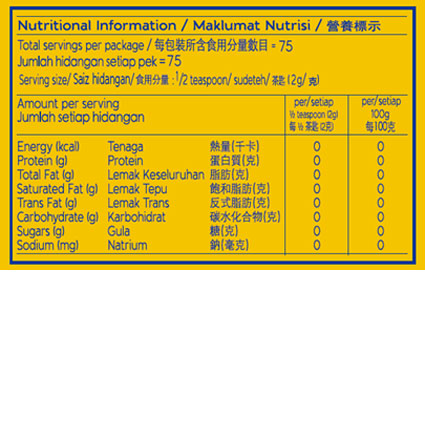 Equal Gold Sugarly Sweetener
Equal Gold Sugarly is the sweetener of choice in the kitchen and a favorite of those who want to control weight.
Use Equal Gold Sugarly Sweetener for both cooking and baking and enjoy serving delicious sweet treats and savories to your family. Equal Gold Sugarly Sweetener tastes great and acts just like sugar, making it the perfect zero calorie sweetener substitute for your next dish!
1 stick sweetens like 2 teaspoons of sugar.
full conversion chart
0 calories, 0 sugar, 0 cholesterol, 0 trans fat
Ingredients:
Bulking agent (erythritol), sweetener (sucralose 0.22%)
Learn more about Equal Gold Sugarly Sweetener click here.
Shop Equal online!