BANANA RAISIN BREAD
Serves 14
A full flavored quick bread made with ripe bananas and raisins. Cereal adds extra crunch and beneficial nutrients. Equal® sweetener reduces the calories but not the taste.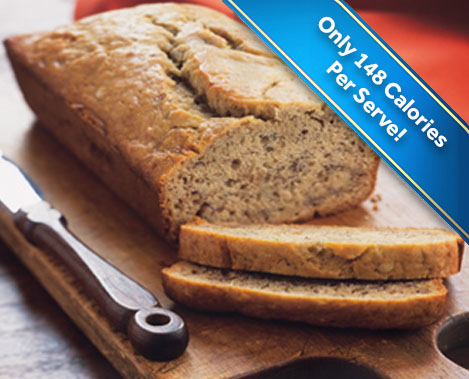 Ingredients
Cooking spray
1 cup mashed ripe bananas (about 2 medium)
3 tablespoons 2% milk
1-1/2 cups Kellogg's® Special K® cereal
6 tablespoons butter, softened
24 sticks Equal Classic Sweetener
2 eggs
1 teaspoon vanilla extract
1-1/4 cups all-purpose flour
1 teaspoon baking powder
1/2 teaspoon baking soda
1/4 teaspoon salt
1 cup raisins
Preparation
Preheat oven to 350° F. Spray a 9 x 5 inch loaf pan with cooking spray; set aside.
Combine banana and milk in medium bowl. Stir in cereal. Let stand 5 minutes or until cereal is softened.
Beat butter and Equal Classic Sweetener in a large bowl on medium speed of electric mixer until fluffy. Beat in eggs and vanilla until well blended. Stir in cereal mixture. Gradually add combined flour, baking powder, baking soda and salt mixing until combined. Stir in raisins. Spread batter evenly in prepared pan.
Bake 45 to 50 minutes or until wooden pick inserted in center comes out clean. Let cool 10 minutes before removing from pan. Cool completely on wire rack.
Store tightly wrapped in plastic wrap.
Serves 14
Nutrition Information (per serving)
Calories: 148
Protein: 3 g
Carbohydrates : 24 g
Fat: 5 g
Cholesterol: 35 mg
Sodium: 180 mg
Exchanges
Fat – 1
Starch – 3/4
Fruit – 3/4