Available pack sizes: 40 Sticks, 100 Sticks
Equal Stevia Sweetener Sticks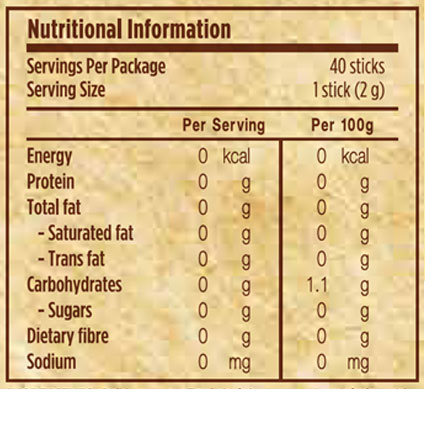 Equal Stevia Sweetener Sticks
These 100% natural, stevia based sweetener sticks are the perfect option if you are looking to cut back on sugar but still want to enjoy the sweet things in life! With 0 calories, 0 sugar and a great, clean taste, Equal Stevia Sweetener Sticks are a delicious, guilt free way to sweeten your coffee, tea, cold drinks and food.
The Process:
1) Harvesting: First the raw Stevia leaves are harvested from the field so they can be dried and crushed
2) Extraction: Next, only the best tasting, extracts are taken from the stevia leaves to ensure a delicious sweet taste without the bitterness.
3) Blending & Packing: Finally, these delicious stevia extracts are blended with other natural ingredients sourced from nature and packed off into these convenient, sweet, 0 calorie sticks for you to enjoy!
1 stick sweetens like 1 teaspoon of sugar.
full conversion chart
• 100% natural
• 0 calories
• 0 sugar
• 0 trans fat
• Non-GMO
• Suitable for vegans
• Sugar like texture
• Great taste
• Tooth friendly
• Diabetic friendly
Ingredients:
Bulking agent: Erythritol, Sweetener: steviol glycosides 0.83%) natural flavourings.
Learn more about Equal Stevia Sweetener Sticks click here.
Shop Equal online!