CHOCOLATE CHIP COOKIES
Serves 2 dozen
An easy to make cookie that will become a favorite, so bake an extra batch to freeze.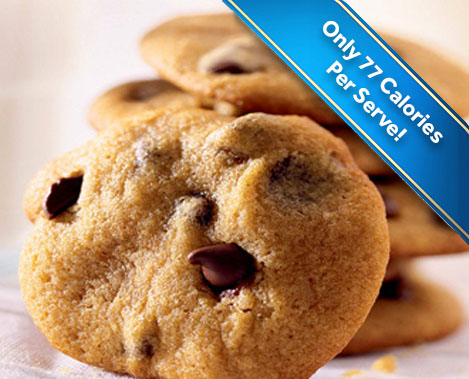 Ingredients
1/3 cup butter, softened
1 egg
1 teaspoon vanilla extract
8 sticks Equal Classic Sweetener
1/3 cup firmly packed light brown sugar
3/4 cup all-purpose flour
1/2 teaspoon baking soda
1/4 teaspoon salt
1/2 cup semi-sweet chocolate chips or mini chocolate chips
Preparation
Preheat oven to 350°F.
Beat butter with electric mixer until fluffy. Beat in egg and vanilla until blended. Mix in Equal Classic Sweetener and brown sugar until combined.
Mix combined flour, baking soda and salt. Mix into butter mixture until well blended. Stir in chocolate chips.
Drop dough by rounded teaspoons onto ungreased baking sheet. Bake 8 to 10 minutes or until light golden color. Remove to wire rack to cool completely.
Store in airtight containers at room temperature.
Serves 2 dozen.
Nutrition Information (per serving)
Calories: 77
Protein: 1 g
Carbohydrates: 9 g
Fat: 4 g
Cholesterol: 15 mg
Sodium: 77 mg
Exchanges
Fat – 3/4
Carbohydrate – 3/4