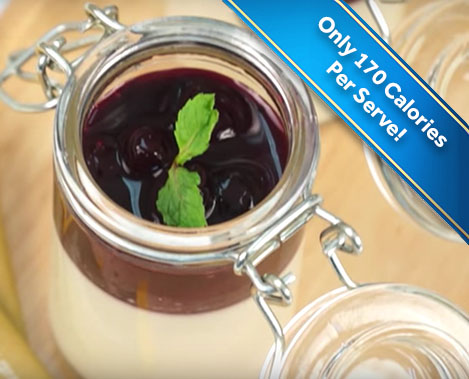 Ingredients
For the Panna Cotta
250g whipping cream
200g low fat milk
4 packets Equal Gold Sweetener
7 sheets gelatine
Vanilla Bean
For the Blueberry Sauce
250g frozen blueberries
½ cup water
10 sticks Equal Gold Sweetener
Preparation
For the Panna Cotta
Soak gelatine sheets in a bowl of cold water.
Warm whipping cream, low fat milk, vanilla bean and Equal Gold Sweetener in a saucepan and bring it to the boil.
Remove the saucepan from the heat and leave it for about 5-10 minutes.
Add the gelatine to the saucepan and stir until dissolved.
Pour the mixture to moulds or cups. Place in the fridge and wait for 2-3 hours (depending on mould size)
For the Blueberry Sauce
Blend blueberries with water until mix well and pour the mixture through a strainer.
Add Equal Gold Sweetener followed by the remaining blueberries in a saucepan.
Heat it over medium heat for 10-15 minutes and bring it to the boil. Remove the saucepan from the heat and let it cool down or leave in a fridge.
Pour the blueberry sauce over panna cotta. Garnish with fresh mint leaves.
Serves 6
Nutrition Information
6 servings
Cooking Time: 30 mins (2-3 hours in a fridge)
Calories: 170 kcal / 1 serving